Johnny Kizinski
From Knights of the Dinner Table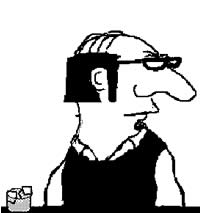 ---
Johnny "Lucky" Kizinski
[
edit
]
Johnny "Lucky" Kizinski was one of the original founding members of the Knights of the Dinner Table Gaming Club. He was highly respected by the other members for his gaming style and dedication to the game. He is mostly remembered, however, for his incredible luck with the dice and his uncanny habit of coming up with the right results at the right time. Mention his name around just about any gaming table in Muncie, Indiana and you're likely to hear the sad refrain, "the boy could play!"
Johnny's story has an unhappy ending however. One night during a power session of CattlePunk, his luck ran out. He fumbled consecutively FIVE times, failed four saving throws, and missed twelve to-hits over the course of the evening. As a result four high-level player characters met their demise.
Johnny's unlucky streak haunted him in the weeks that followed and he eventually lost interest in the game and hung up his dice bag. He moved out of state and now manages a Big Juices in Wisconsin.
---